I've already written about my encounter with a couple of different herbs in
Mungyeong
. All in all, the trip was good and it was nice to see
Sejin
's family again. The only downside to the trip was that the weather was so hot, it made it hard to have fun outdoors. We were supposed to spend Saturday afternoon by the stream having a picnic, but instead everyone stayed in the
minbak
to keep cool. It was disappointing because
Mungyeong
has some great scenery that I wanted to get some pictures of. I guess it'll have to wait until next time.
I did go out for a bit, but not far. Just down the road was a ceramics museum and a Confucianism Museum. It was interesting enough. I really like looking at traditional Korean handicrafts, so I liked the "boudoir" room in the Confucianism museum. The embroidery was gorgeous.
We finished off the day with some
samgyupsal
, which is the best way to finish a day. It was really good.
Sunday was spent in the air-conditioning. I worked on Doily Coaster, which is actually meant to be worked with a finer thread, so as to get a coaster sized coaster. But I wanted to use some of my green cotton to make something slightly bigger. I like how it looks and it was a one-day project, which I love.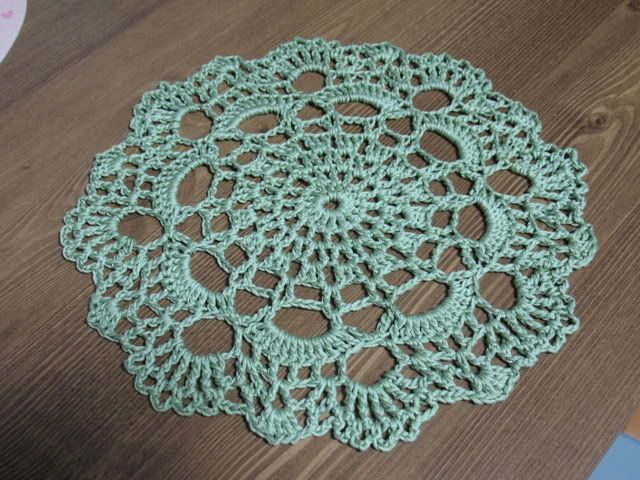 My busy week starts here. Between now and Thursday evening I have tonnes to do. We have train tickets to
Yeosu
booked for Friday, but we may cancel if it looks like rain. I'm mainly going to hit the beach, and if I can't, I'd rather postpone.